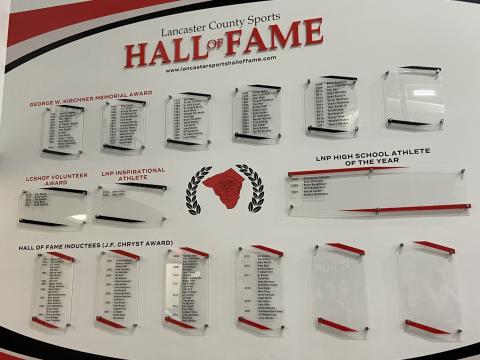 A year-and-a-half project and a dream for even longer became reality Aug. 31, 2021, when the Lancaster County Sports Hall of Fame dedicated its display of inductees and other award winners.
The display is located in the lobby to the left of the entrance at Spooky Nook Sports, off Route 283. It includes Hall of Fame inductees who received the J.F. Chryst Award, recipients of the George W. Kirchner Memorial Award, currently presented by the Hall of Fame, and the volunteer award, as well as LNP Media Group's Inspirational Athlete and High School Athlete of the Year.
In brief comments, Ed Flick, board president, congratulated the board on its accomplishment and stressed the importance of providing enduring recognition of the county's top sports people.
Establishment of the display was completed at the same time the organization developed its first website, and in spite of complications presented by the COVID-19 pandemic. Board treasurer Jack Neal headed the committee that also included Paul Nicklaus, Barbara Barr and Denise Gobrecht.
The organization also has provided miniature displays to the county's high schools and colleges to be hung near their gymnasiums.