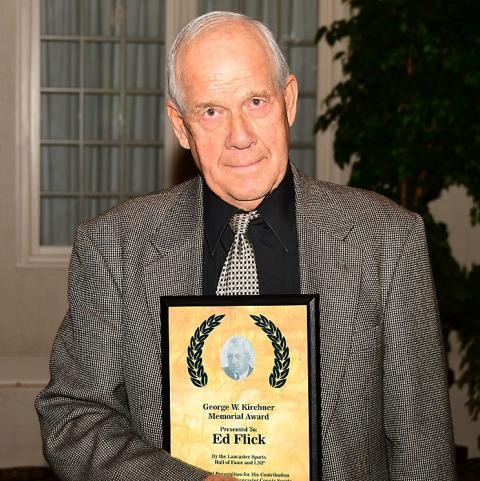 Banquet to be broadcast on LCTV, Comcast Channel 66:
Monday, Dec. 4, 8:30 p.m.
Thursday, Dec. 7, 8:30 p.m.
Sunday, Dec. 10, 10 a.m.
Local achievement clearly was the theme of this year's Lancaster County Sports Hall of Fame banquet at the Eden Resort. Of the 9 people honored only Pittsburgh Steelers fullback Dan Kreider, a Manheim Central grad, significantly boosted his sports credentials outside the county, and he spoke more about his days as a Baron than of the NFL.
Kreider was one of four receiving the J. Freeland Chryst Sports Achievement Award and induction into the hall of fame. Others are former McCaskey basketball coach Steve Powell, former Manheim Township baseball coach Bill Sassaman and former Hempfield football and baseball coach Tom Getz.
Ed Flick, a former basketball, baseball and softball official, chairman of the Hospice Sports Memorabilia Labor Day Auction for 16 years and chairman of the Lancaster County Sports Hall of Fame for seven, received the George W. Kirchner Award.
Kreider talked about how his parents did not want to leave church early for midget football games when he was young, but then he played 10 years on Sunday in the NFL. He credited Manheim Central head coach Mike Williams and assistant John Brubaker with providing a huge boost to his success as they were just starting to become a dominant force with countless district championships and a state championship.
He said strength training and his teammates at Manheim also benefitted him. "I think that's why we were able to be as successful as we were. We worried about the team, about pushing each other and just being better as a team." He remembered the booster club and Manheim community's support of the team during its 3 highly successful years he played and called it such a fun time. 
Now an assistant football coach with Brubaker at Penn Manor, Kreider said after growing up here, he knew he wanted to raise his family here and "be able to invest in the next generation and teach them things that I have learned -- things like self control, perseverance, teamwork."
Getz said it was such an honor to be recognized with Aidan Hodge, LNP | LancasterOnline High School Male Athlete of the Year from Hempfield, and Maddie Knier, Female Athlete of the Year, and Kreider, both from his alma mater of Manheim Central.
He credited great players and great assistant coaches in his success, and Hempfield Superintendent Bob Wildasin with convincing him to remain as baseball coach when taking the football post. "And sometimes you just get lucky," he said of former major leaguer Tom Herr joining his coaching staff. 
He said he was thankful to coach his son, Jonathan, in baseball and regretted not seeing his daughter, Jennifer, play softball because games were on the same day. He said his wife, Judy, is the "best person he ever met," and said she deserves to be in a Hall of Fame.
Gloria Campbell, Powell's widow, said, "Steve was a great problem solver and very passionate about everything that he believed in. And that's what carried him very nicely through life."
Earl "Papa" Boots, an assistant coach, spoke of Powell's contribution to team and family.
Sassaman said his reaction to being seated at the head table was "this is really cool. This room is just filled with so many great people that I admire and respect."
He talked of the road not taken to professional baseball leading him to Manheim Township, his wife, Jennifer, and the opportunity to build a high school baseball program with former coach Dave Haughney. He described the adversity of being removed as Township baseball coach in 2015 and how it led him to "new and exciting opportunities" of teaching at Lancaster Country Day School and coaching college baseball at Penn State Harrisburg and Millersville University.
At the end he called his wife to the podium and, after joking with her and acknowledging her role, said, "Tonight, this award does not honor me; it honors us."
In accepting Ford's volunteer award, Heidi Heisey, his cousin, described his parents' efforts with the Columbia Boys Athletic Association and how it inspired Barry. "He only did what he learned from his parents as a volunteer." She described how he insisted on doing his duties as a coach, mentor, umpire, score keeper, master of stats despite his health issues.
Inspirational Athlete Karin Hostetter, introduced by LNP's John Walk, competed in soccer, swimming and lacrosse before being diagnosed with a rare lung disease. She described her joy with her two siblings, who both play basketball, and with Peter Parker, her medical alert service dog, a 3-year-old black lab.
"It will be two years in November since we became a team, and I couldn't imagine life any other way," she said of her companion. "He is my superhero."
Flick had the crowd of more than 300 laughing for almost 25 minutes at his stories from the diamonds and basketball courts. He thanked all the fans, spectators, coaches and players who helped him call balls and strikes and fouls. "I couldn't do it without you."
He expressed thanks to be able to umpire fast-pitch softball during its heyday with some of the best teams in the country at Conlin Field. But "basketball was my favorite sport," he said. "I love basketball. It has a clock. We knew the game was going to be over at a certain time." 
"I had a wonderful career," he said. "Sports were great to me. I got paid for something I love and can be in great shape."
Mike Reynolds, general manager of the two-time Atlantic League champion Lancaster Barnstormers, manager Ross Peeples and former manager Herr led the group in singing "Take Me Out to the Ballgame" to start the banquet.
Joe Calhoun, of WGAL 8, again served as master of ceremonies.
Board chairman Jack Neal presented opening comments, and board member Jack Blackman said the prayer.
(Photos from top, Ed Flick, Tom Getz, Dan Kreider, Bill Sassaman, Earl "Papa Boots and Gloria Campbell for Steve Powell, Heidi Heisey for Barry Ford, Aidan Hodge family, Maddie Knier family, Karin Hostetter and John Walk. All photos by Bob Diller.)
-- Oct. 25, 2023
For previous award winners, go to Inductees in top banner
Additional photos from banquet and previous banquets