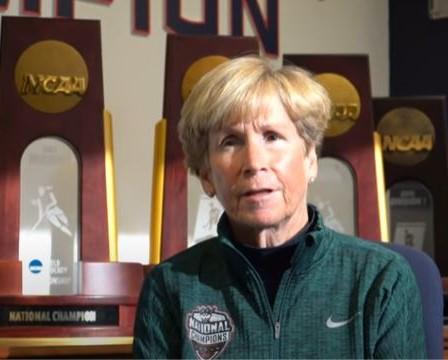 Nancy Stevens' thrill at receiving the George W. Kirchner Memorial Award came through loud and clear even though she was not present at the 2021 Lancaster County Sports Hall of Fame banquet at Eden Resort.
The NCAA's winningest field hockey coach -- who was quarantining at the University of Connecticut to lessen any chance of the COVID-19 pandemic affecting the team's participation in the upcoming Big East tournament -- spoke to a crowd of more than 300 through a pre-recorded video.
The annual banquet, which was not held in 2020, also honored 4 J. Freeland Chryst award winners, inspirational athlete Ryan Smith, a volunteer of the year and 4 athletes of the year covering 2 years. Travis Jankowski, Philadelphia Phillies outfielder, was a special guest.
In describing why the award was so special, Stevens started with Don Yingst, sports editor of the Manheim Stiegel News when she played in high school at Manheim Central. The award, she noted, is named for another sports editor, George Kirchner, of the Lancaster New Era.
"So Don Yingst," she said, "he really took an interest in girls sports at Manheim Central, and he made us feel special. And I think for a young athlete that really made an impression. It was very affirming."
She said when she played for the United States in the World Cup, Yingst made sure the story was on Page 1, but it ran under the farm show poultry queen. "I also learned a little bit of humility as well."
She also spoke of the influence of fellow coaches when she starting her coaching career at Franklin & Marshall -- Bill Iannicelli, track; Glenn Robinson, basketball; and Tom Gilburg, football. The coaches, all Kirchner award winners, "took me under their wing," she said.
She also mentioned Jane Hoover, Elizabethown field hockey coach and the first woman to win the Kirchner, who coached Stevens' high school coach. "Julie Dixon was the best high school coach a player could ever have. Someone who breathed life into my dreams."
Stevens also offered congratulations to Jill Witmer Funk, who received a Chryst award. 
"We had to wait until you graduated to beat Maryland," she said, winning the national championship in 2017.
Witmer Funk called induction to the Hall of Fame "my greatest accomplishment because Lancaster County is not only my home but where field hockey started for me."
Basketball standout Jerry Johnson talked about the hard work he put in at McCaskey and how "I wanted to be great, not good. I was so focused on wanting to be great that I forgot about being a person first."
He said when he became a professional basketball player he found "getting paid really touches your character."
He said he initially didn't want to become coach at La Academia Charter School in Lancaster, but "it was a chance to go to a school with zero sports and help them develop sports in Lancaster City. I just want to give back." His team won the PIAA District 3 Class A championship.
Dave Myers and Lee Bossert described how they established the McCaskey girls basketball team as a powerhouse from 1973 to 1986. Myers said he was touched by "the players who showed up in force" for his Hall of Fame induction. Bossert described how student Denise Gobrecht, now a Hall of Fame board member, asked him to coach the team and a subsequent 60-6 loss to Garden Spot.
Volunteer award winner Mike Tafelski described the Challenger Little League program and the purpose of sports involving athletes of all abilities playing for enjoyment.
LNP's John Walk described Smith's basketball career at Lampeter-Strasburg and East Stroudsburg University and his inspiring response to cancer, which took his life March 22, 2021. Smith's mother, Kim, talked of his RelentlesS positive outlook on life and said he would "want us all to be passionate about something."
Recognized athletes of the year are Kiera Baughman, two-sport standout at Donegal, and Will Betancourt, wrestling champion for Manheim Central, for 2020 and Hannah Custer, three-sport star at Cocalico, and Braden Bohannon, 4-year starter in 3 sports at Elco, for 2021. All were away at college and unable to attend.
Jankowski, a Lancaster native who completed his first season in Philadelphia after playing in San Diego and Cincinnati, answered questions from three attendees. Addressing one who questioned the team's drive, he said, "Everyone in the locker room wants to win, maybe too much," citing pressure players put on themselves.
He promised, "We're going to win next year."
Joe Calhoun, WGAL meteorologist, was master of ceremonies. Board chairman Ed Flick made welcomng comments. Pastor Chris Rankin gave the invocation. 
-- Oct. 26, 2021
Most photos below by Bob Diller. From top: Jill Witmer Funk, family and friends; Jerry Johnson; Travis and Lindsey Jankowski; Lee Bossert and Dave Myers, former players and friends; Mike Tafelski, family and friends; Craig and Kim Smith with presenter John Walk.
For previous award winners, go to Inductees in top banner
Additional photos from 2021 banquet and previous banquets