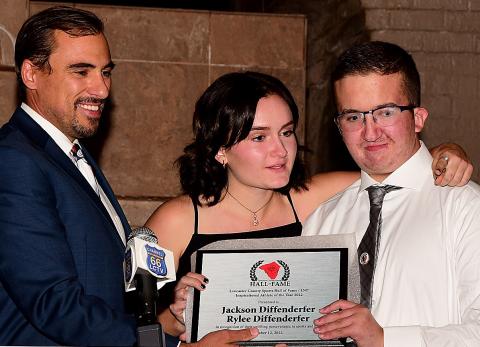 717 Sports Media banquet video at https://youtu.be/U8mAhl9Wh0w
During a night honoring a broad range of athletic achievement -- Olympic silver medalist, Title IX pioneer, 2 highly successful Hempfield coaches -- a young Lititz brother and sister received the biggest applause at the 2022 Lancaster County Sports Hall of Fame banquet.
Rylee Diffenderfer, who played 2 years of Division I field hockey after graduating from Warwick High School, spoke directly to her brother, Jackson, in their acceptance of the LNP | LancasterOnline Inspirational Athlete of the Year Award. Jackson, 18 and a senior at Warwick, is a "differentially-abled" student who competes on the Warwick Unified track team. He has overcome more than 20 surgeries and been diagnosed with various medical conditions. (They are pictured with presenter John Walk of LNP | LancasterOnline.)
Rylee recounted how Jackson was always cheering for her and how they cheered together for their younger brother playing baseball.
"What's important to me is you're finally on the other side," she said. "You're finally being recognized. You are the one we're cheering for for the first time in your life. You are the LancasterOnline Inspirational Athlete of the Year. Pretty good for a kid who was told he may never walk or talk, right? No one deserves this more than you. You make us all better every day."
Rylee has decided to stop playing field hockey to concentrate on becoming a special education teacher at the high school level, an aspiration she attributes to Jackson.
J. Freeland Chryst Award winner Andy Noel, a wrestler, administrator and 1968 Lancaster Catholic grad, said during his acceptance speech, "Riley, you and Jackson are the most incredible folks that are here." He said he had tears in his eyes as he read about their bond.
A crowd of about 300 people filled the ballroom at Eden Resort, Lancaster, to honor this year's award winners.
Patricia Hofmann Meiser, winner of the George W. Kirchner Award, recounted the importance of Title IX to her and other women and how the act expanding athletic opportunities for women changed lives.
"I stand here as a Title IX trailblazer," she said, "and it just so happens that the decades of my life fit in perfectly with this year's 50th anniversary of Title IX. It has been a long haul."
She listed effects from her days coaching basketball at Penn State to her administrative roles at the University of Connecticut and the University of Hartford. She talked of her salary doubling in one year, full women's scholarships arriving within 3 years and the PSU basketball schedule going from 12 games in 1976 to 27 games 2 years later.
The approach at Penn State, she said, was "let's give our young gals the same opportunities that sports have given our boys."  
She said, "One of the deepest passions that I have had throughout my life, and I would not have stayed in athletics if I had not had this passion, is that I believe one of the finest forms of education in America takes place on the field, the courts and the gyms. Some of the finest educators in the world are sports."
Meiser, who has received various prestigious awards, also spoke about how important this award is to her: "Nothing pleases me more (than) driving back into this beautiful part of not just Pennsylvania but this entire country. I have always felt like, even though I've been in Connecticut for 40 years, this is my home."
Kim Glass, a 2002 Conestoga Valley grad and Olympic volleyball player, thanked many as the first of 4 J. Freeland Chryst Award winners.
"I'm the sum of everyone that I have ever met," she said. "This award I am receiving tonight is for everyone that's helped me and guided me along the way."
She particularly spoke of CV coach Al Kofroth -- "This award is for you and coaches like you." -- her mom -- "When there were naysayers you gave me confidence" -- and her dad, who "has been there for me, has been a cheerleader."
She said she was particularly pleased to be the first black female inducted into the Lancaster County Sports Hall of Fame.
Chryst winner Warren Goodling said that with 4 former head basketball coaches in the district, "I had a lot of places to go for advice." He also talked with football coach Jack Yohe and counted heavily on his unbelievable assistant coaches -- "I never had to tell them what to do. They knew what to do."
He said he counted on the leadership of his players and aimed to teach his students like he coached the team, and coach his team like he taught his students. He also attributed his success to the strong support of the Hempfield School District administration.
"It really feels good to be home," said Noel in receiving his Chryst Award. " My best friends are here from high school, very touching, very touching to me. I didn't expect it."
Later, he added, "I realize why I'm so excited by this evening is because of the folks who showed up to support me and the level of the honorees I'm joining tonight."
He also said his biggest inspiration was his father, the late Dr. John A. Noel, a local dentist. He described him as a very loving man, but tougher than loving. "I give him credit for developing me, inspiring me and pushing me."
Mike Vogel, former Hempfield volleyball coach, who had one of the more vocal groups of supporters at the banquet, said "I never thought I'd be a high school coach and I never thought I'd be up here. This is just amazing"
He said that when he was hired in 1991 he was clueless about volleyball. "I had no formal training so I learned on the job." He said he realized quickly he needed quality players and coaches. "They didn't have to be the best athletes, but they had to have exceptional character, and I learned quality athletes come from quality parents."
He said he had strong support for 31 years from his players, coaches and parents before listing some of his top athletes.
Bob Diller, volunteer of the year, who has photographed the banquet honorees for many years and many local sporting events for even longer, talked of watching and following most of the athletes honored this year.
"I got the opportunity to shoot pictures for the McCaskey football program in the late '80s. It's been great ever since. That was kind of a steppingstone for me because when I got to McCaskey I was shooting just about every sport they had there."
A highlight was photographing John Garcia in his win at the state wrestling championship in 1992, and the McCaskey girls won the state track and field championship the same year. Those were the first state championships he attended and he said he has been at every one in those sports since.
The 2022 LNP | LancasterOnline High School Senior Athletes of the Year — Annville-Cleona's Braetan Peters and Cocalico's Ryan Brubaker — were recognized as well. Both were represented by their families.
Coaches Troy Steffy and Jeff Bianchi, of the Atlantic League champion Lancaster Barnstormers, led the group in singing "Take Me Out to the Ballgame" to start the banquet.
Master of ceremonies Joe Calhoun, of WGAL 8, was presented a cake in honor of his birthday.
Board chairman Ed Flick presented opening comments and announced that the volunteer award starting next year will be renamed the Kenneth G. Stoudt Volunteer of the Year Award in honor of the 2007 J. Freeland Chryst Award winner and Hall of Fame supporter who died recently.
Board member Jack Blackman said the prayer.
-- Oct. 12, 2022
Photos below by Bob Diller. From top: Kim Glass, Warren Goodling, Patricia Hofmann Meiser, Andy Noel, Mike Vogel, Rylee and Jackson Diffenderfer, Kim Glass and Patricia Hofmann Meiser, host Joe Calhoun, Hall of Fame board.
For previous award winners, go to Inductees in top banner
Additional photos from 2022 banquet and previous banquets