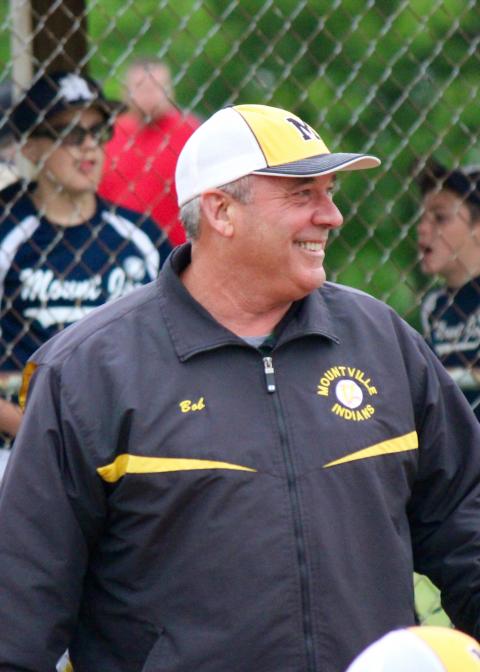 Bob Sauders was Volunteer Award winner in 2018
As you might expect, I have amassed countless "favorite" memories from my more than 30 years of coaching the Mountville Indians 12U Section 1 baseball team. Each year, regardless of the won-loss record, had its share of memorable games, plays, and especially players and parents. But if forced to pick one that stands out above the rest – it would have to be the 2003 season. That year, the Indians achieved a remarkable 51-0 record with our 51st victory coming in the coveted championship game at Cooperstown Dreams Park in New York against 63 club teams from across the country.
The accomplishment of this undefeated season is even more astounding because the Indians were (and still are) a true "town" team. The 12 players that made the team in March of that year were the same, and only, 12 players that played in all 51 games. No one lived more than 5 miles from our home field. In addition to playing our regular league schedule and several county weekend tournaments, we also entered two regional tournaments
All told, we had 6 one-run wins that year. Probably the most memorable was the 2003 New Era Midget-Midget Championship game against our school district rival – Hempfield Black. It took us 7 intense innings to achieve a 4-3 win, our 40th win without a loss – and a new county record!
One particular play in that game epitomizes the character of that year's team. We had lost the coin toss so we were the visitors. Both pitchers were pitching a great game and both teams were making Top 10 plays in the field. Hempfield had just tied the game 3-3 in the bottom of the sixth and usual final inning.
We came up in the top of the seventh and our first batter struck out looking but our second batter hit a liner in the gap between left and center – an easy stand-up double. In the excitement though, our batter never looked to his third base coach (me) and failed to see him giving the "hands-up, stop at second sign," so the runner continued coming hard only to stop dead in his tracks halfway to third when he saw the third baseman getting the throw from the outfield. Frantically trying to reverse course, he slipped and was tagged out as he laid on the ground. Imagine having to go back to your bench and your teammates after that – in a championship game that had gone into extra innings. Fortunately, our next batter got hit, stole second and scored on an overthrow to third.
After our third out, I went to our bench and asked our bench coach what the team had said to their teammate who made such a terrible base-running mistake. He said, "Bob, they all came up to him and said 'good hit!'" What a team! They never focused on what their teammate had done wrong but instinctively focused on the good thing he had done.
A week and a half later we headed to Cooperstown, New York, for the Dreams Park Tournament, which at that time consisted of 64 teams from all across the country. Teams played two preliminary games Sunday through Tuesday and then were seeded based on won/loss record and runs allowed. Our preliminary games were played against teams from Florida, Maryland, Indiana, Illinois, Utah and California. We were the No. 4 seed with our 6-0 record and 2.83 runs allowed per game.
Our first elimination game was on Wednesday evening against the Hawaii Sharks, which we won 7-0. We then had to come back for an 8:30 a.m. Sweet-16 game against the Georgia Titans, which we played in a constant drizzle, finally emerging with a 6-5 victory and scoring our go-ahead run in the bottom of the fifth inning.W then defeated a Pennsylvania team from the Pittsburgh area in the Elite-8 before taking on the No. 1 seed Gateway Grizzlies from St. Louis, Missouri. We were able to score 5 runs in the top of the first inning and held on for a 6-2 win and a trip to the 9:30 p.m. championship game – our fifth game in just over 24 hours.
Several hundred spectators crowded into the championship park to watch our Mountville town team take on the Hilton Head Island Storm Baseball Club from South Carolina. Hilton Head scored a run in the top of the first, but the Indians came back with 3 runs in the third and fourth innings and then held on to win 6-3 for the championship in a national tournament.