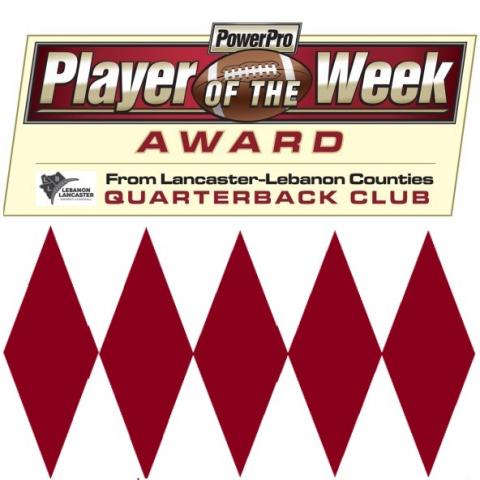 The Lancaster-Lebanon League Quarterback Club, comprising the league's football coaches, selected the following PowerPro players of the week.
Back
Section 1: Asher Wolfe, Manheim Township, vs. Harrisburg, 5 catches for 56 yards including game-winning catch. On defense, one pass defended and 7 tackles (5 solo and 2 assist).
Section 2: Zac Hahn, Manheim Central, vs.Cocalico, 14 of 24 oassing for 289 yards, 4 touchdowns, 0 interceptions.
Section 3: Breadon Cummings, Elizabethtown, vs. Lower Dauphin, 10 catches for 208 yards and 2 touchdowns.
Section 4: Noah Rohrer, Donegal, vs. Palmyra, 14 carries for 90 yards, 1 touchdown; 2 receptions for 11 yards, 8 solo tackles, 3 tackles for loss, 1 interception returned for a touchdown, 3 for 4 point after touchdown, 29-yard field goal.
Section 5: Will Cranford, Lancaster Catholic, vs. Octorara, 7 for 7 passing for 204 yards, 3 touchdowns, 1 rush for 35 yards, touchdown.
Lineman
Section 1: Austin Day, Manheim Township, vs. Harrisburg, made all offensive line calls and defensive calls, recorded 6 tackles (3 solo/3assist) and had a high blocking grade.
Section 2: Kyle Lash, Exeter, vs. West York, from defensive line position, 7 tackles, 3 tackles for losses, 3 hurries and 1 sack; on offense, his trap blocking ignited a sluggish offense, 3 pancake blocks, graded out at 89% and allowed no quarterback sacks.
Section 3: Tyler Hurst, Garden Spot, vs. Conestoga Valley, 9 tackles (8 solo/7 tackles for loss, 4 sacks, 2 forced fumbles, 2 hurries, 1 pass deflection, high blocking grade, great execution of assignment.
Section 4: Tre Spahr, Lampeter-Strasburg, vs. Kennard Dale, on offense, 12 pancake blocks and a high blocking grade while playing guard tackle and center; on defense, 5 tackles (3 solos) and 2 tacklese for loss, played entire game with an infected foot after missing practice most of the week.
Section 5: Ryan Cardinal, Kutztown, vs. Nativity, 6 pancakes blocks and 8 tackles (4 tackles for a loss).