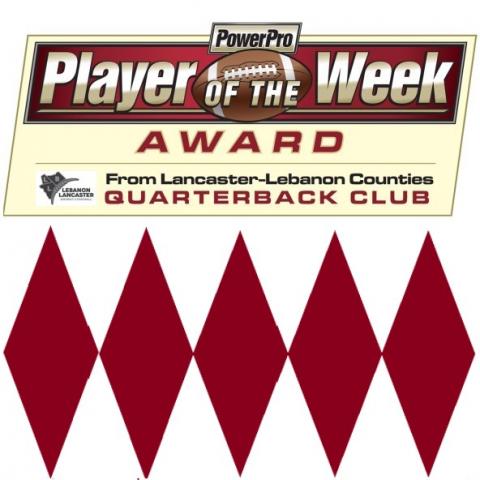 The Lancaster-Lebanon League Quarterback Club, comprising the league's football coaches, selected the following PowerPro players of the week.
Back
Section 1: Micah Gates, WR, Hempfield, in 20-16 win vs. Wilson, 4 catches for 123 yards and 1 touchdown. 
Section 2: Mason Rotelli, QB, Exeter, in 42-8 win vs. Muhlenberg, led offense to 338 total yards including 4 of 6 passing for 2 touchdowns.
Section 3: Andre Weideman, RB, Ephrata, in 42-28 win vs.Fleetwood, 32 carries for 382 yards, 2 touchdowns, 2 catches for 35 yards, 1 touchdown, 2 solo tackles. Weideman became the all-time leading rusher in program history with this effort.
Section 4: Jake Williams, RB, ELCO, in a 41-21 win vs. Octorara, had 11 Carries, 318 yards and 5 touchdowns.
Section 5: Xander Menapace, QB, Hamburg, in 27-20 win vs. Pequea Valley, 21 carries for 172 yards with 3 touchdowns and 14 of 23 passing for 169 yards with 1 touchdowns and no interceptions.
 Lineman
Section 1: Micheal Shaffer, LG, Hempfield, in 20-16 win over Wilson, high blocking grade, gave up no sacks and had one solo tackle for loss on defense. 
Section 2: Jaden Weit, DE, Manheim Central, in win over Lebanon, 8 tackles, 4 tackles for loss, and 3 sacks.
Section 3: Seth Heinsey, C/LB, Ephrata, in 42-28 win vs. Fleetwood, high blocking grade for an offense that rushed for 409 yards and had 597 total yards, 6 tackles on defense (2 solo, 4 assisted) including 1.5 tackles for loss.
Section 4:Chuckie Drain, DT, Cocalico, in loss to Wyomissing, registered 10 tackles, 6 tackles for loss, 6 solo tackles in 3 quarters of play. 
Section 5: Tyler Hallock, OT/DT, of Kutztown, in 34-28 win vs. Northern Lebanon, on defense registered 6 tackles, 2 sacks, 3 QB hurries and 1 pass deflection that led to and interception; on offense, had 5 pancake blocks and was a key blocker in a 404 total yard offensive effort.