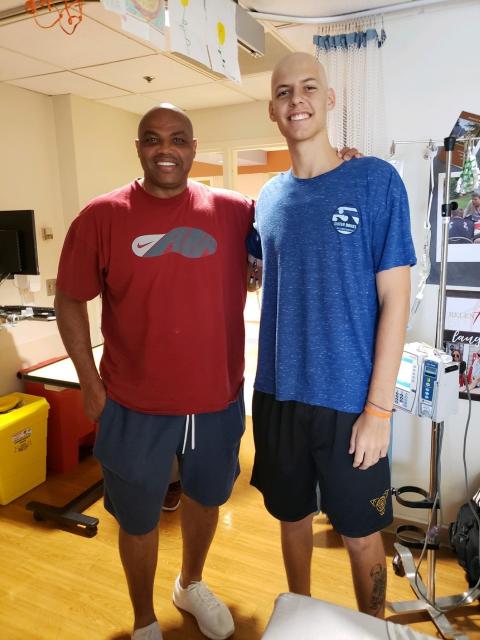 The world became a little worse place on the early morning of Monday, March 22, 2021. That is when Lampeter-Strasburg graduate Ryan Smith passed to heaven due to complications from acute myeloid leukemia. For the previous 19 months, Ryan had RelentlesSly battled this disease in a manner that motivated and captivated many throughout all of Lancaster County, Eastern Pennsylvania and beyond. He took death's measure at least 3 times during his fight.
Ryan, shown with NBA great Charles Barkley, will be remembered for a lot of things. As a champion, a warrior, a competitor, a perfectionist, a man of God and a winner.
In high school, on the hardwood he led Lampeter-Strasburg to the 2018 Lancaster-Lebanon League title. He averaged 20.8 points and 11.4 rebounds that year and scored 1,080 points in his L-S varsity career. Only 3 of them came before his junior and senior year. In the classroom Ryan held a 3.94 GPA and scored 1390 on his SAT test. 
In college, he moved onto East Stroudsburg University on a full NCAA Division II basketball scholarship. He helped lead the Warriors to the NCAA Tournament and was named the PSAC East Freshman of the Year after averaging 16.9 points and 8 rebounds for ESU. In his final college game, he scored 30 points and grabbed 13 board in an NCAA tournament game. Also, he was a dean's list student every semester and posted a 4.0 GPA in Fall 2020, when his cancer had gone into remission.
While battling leukemia, he was the recipient of the 2020 Lancaster County Sports Hall of Fame Inspirational Athlete of the Year, as chosen by John Walk of LNP Media Group.
But what most will remember about Ryan will revolve around how it fought a miserable disease. His positive mindset that he was going to beat the disease when the odds were stacked against him. The fact that he gave strength to those close to him while he was at his weakest.
The slogan for ESU basketball is #Relentless. Ryan took that and ran with it, making #RelentlesS and #warrioRStrong his personal hashtag.
RIP Ryan Smith.