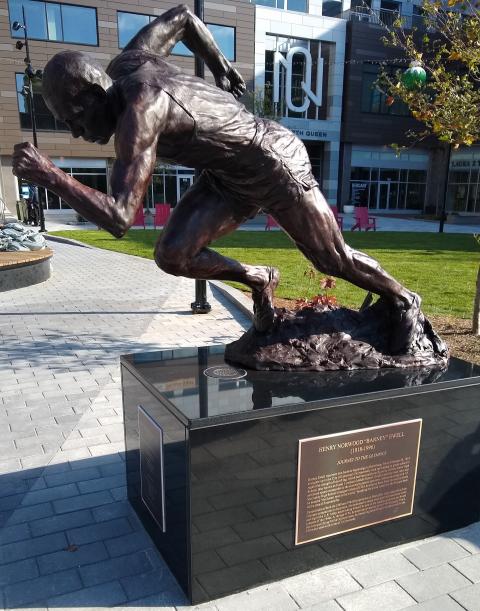 A 7-year project came to completion with the unveiling and dedication of the statue of Olympic sprinting champion and Lancastrian Barney Ewell in Ewell Plaza, across from Binns Park on North Queen Street, Lancaster.
"This statue is a symbolic representation of my father, of the legendary stuff," Ewell's daughter Denise said after a symbolic gold medal presentation from Gov. Tom Wolf that her father never had. "I want each and every one of you to appreciate it, respect it and take pride in it."
A large crowd gathered in the newly completed plaza on a chilly morning to hear a series of speakers and music from J.P. McCaskey High School's Voices of Freedom and to witness the unveiling.
Denise Ewell said the message from her father is to "keep trying, have faith in yourself and don't give up."
"This is a really big day for Lancaster; I understand that," said Wolf. "But it's a really big day for Pennsylvania as well."
The dedication was a result of the efforts of the Barney Ewell Legacy Committee. Former Lancaster Mayor Art Morris summed up the emotion of the effort that began for him with a call from the late Ken Stoudt.
"It has been a 7-year journey with my three friends and a highlight of my life. Our friend Ken passed away two months ago. He very much wanted to live long enough to see this statue. We miss him, but let's remember, as a statue is unveiled today, that without Ken's phone call, this would not be occurring."
Other members of the committee are former County Commissioner Ron Ford and Jeremiah Miller, alumni director for the McCaskey Alumni Association, who said the group's "mission was to bring a much greater public profile to an extraordinary athlete and human being, and to do so in such a way that his legacy might never be forgotten by future generations."
Current Lancaster Mayor Danene Sorace said, "Barney's legacy is one of perseverance, of love for family and community. And I hope that this statue behind me will hold fort over this beautiful plaza and inspire Lancaster to dream of future possibilities that we can accomplish together." 
She added, "Let us continue to tell the story to future generations that in Lancaster all things are possible."
"We believe it's appropriate and important to celebrate excellence and achievement in Lancaster County in all its forms," said County Commissioner Josh Parsons. "Excellence and achievement in academics, excellence and achievements in the arts, excellence and achievements in the military, and excellence and achievements in athletics. Because many of us believe in order to be it, usually, you must first see it; you must have an example in your mind. … For the children all over Lancaster County, they can come here, they can see a picture of excellence, they can hold that in their mind, and then they can achieve their own version of excellence and achievement in whichever realm they choose to compete."
Ewell, born in Harrisburg, Feb. 25, 1918, grew up in Lancaster, attended East Junior High School, later Hazel I. Jackson Middle School, where he joined the track team. After graduating from McCaskey's inaugural class of 1938, he entered Penn State University, where he became "the fastest man in the world" with a world record time of 5 seconds flat in the 50-yard dash. 
At the 1948 Olympics in London he won silver medals in photo finishes in the 100-meter and 200-meter dashes. The 4x100-meter relay team Ewell ran the first leg on initially was disqualified because of a baton pass out of the zone. After judges reversed the ruling after reviewing film, Ewell received his gold medal, not on the winner's stand, but in the cafeteria.
He returned to Lancaster, where he became known for his gregarious spirit and regular visits to Lancaster's Central Market. He died April 4, 1996, at 78 and is buried in Conestoga Memorial Park Cemetery.
Sculptor of the Barney Ewell statue is Chad Fisher of Fisher Sculpture LLC.
The day also included live music, food trucks and a Kids Mini-Olympics hosted by the Lancaster Recreation Commission in the plaza and across a closed North Queen Street in Binns Park.
-- Nov. 19, 2022
Barney Ewell's Kirchner Award bio
Barney Ewell's Chryst Award bio